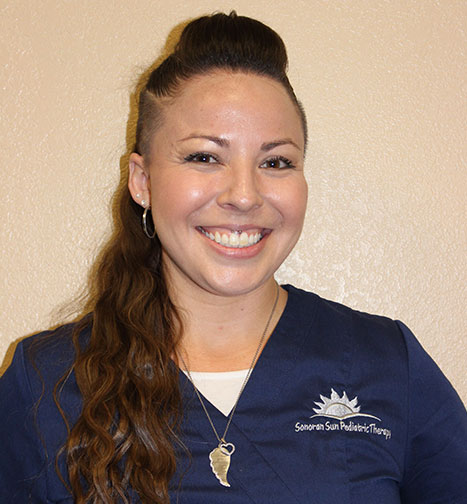 It's Better Speech & Hearing Month and we want to Spot Light one of our amazing Speech Therapist!!
Jessica Ruiz AKA Ms. Jess, is one of our Speech-Language Pathology Assistants. She received her Associate in Applied Science (AAS) in Speech Language Pathology Assistant degree at EMCC in Avondale, Arizona. She has been in the field for four years, and has been working with individuals with special needs for over fourteen years. Originally, Jess wanted to be a special education teacher, but speech therapy won over her heart. She is a passionate and animated therapist who strives to create a fun learning environment tailored to each patient's needs.
Jess has three passions in life: traveling, sports and DOGS! She is a self-proclaimed "crazy dog lady" and currently has three dogs of her own (looking to add a fourth very soon). Jess has been fortunate enough to travel quite frequently in her adult life and has visited multiple places in Asia and Hawaii. Jess is also passionate about living a healthy, active life. She played softball for 16 years of her life, landing her a full-ride softball scholarship for college. Jess currently plays in an adult co-ed dodgeball league and is constantly looking for ways to be active.
We are so lucky to have Jess as part of our wonderful staff here at Sonoran Sun Pediatric Therapy!!