Occupational Therapy Month!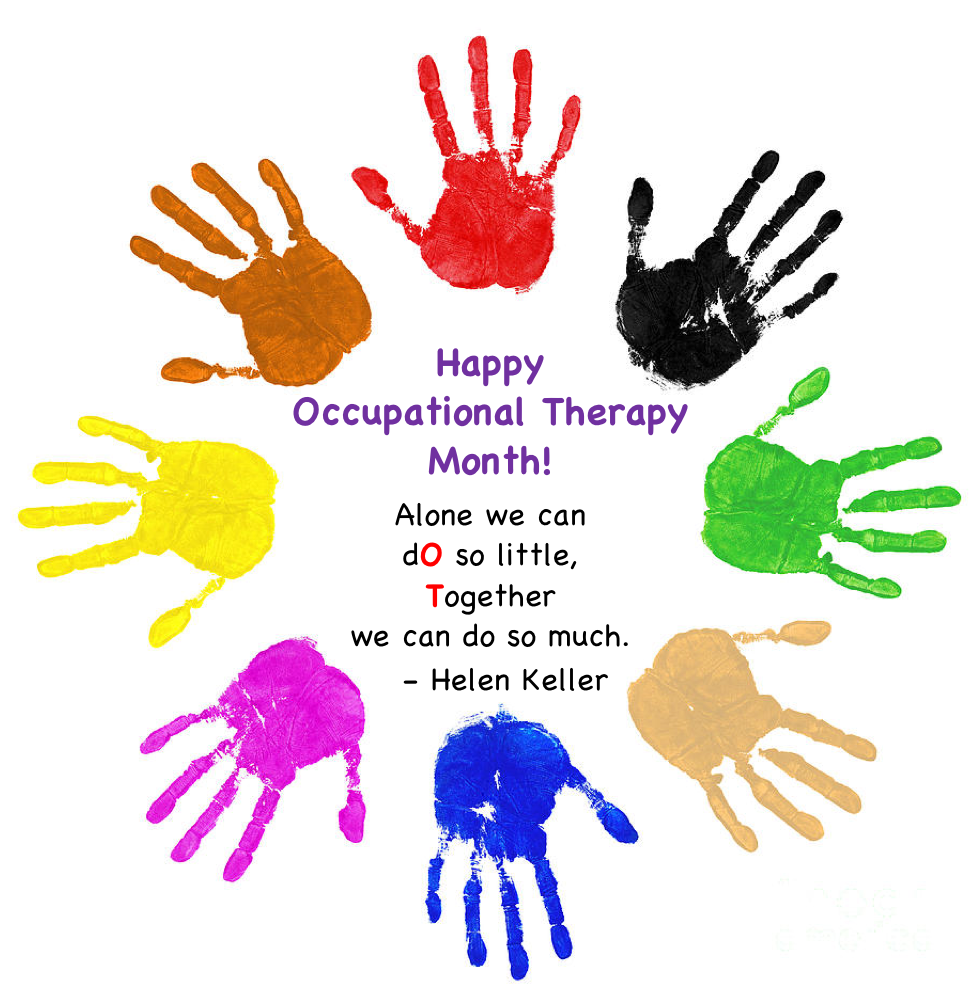 Happy OT Month!
Here is 30 Fun Filled Days of OT Activities for all ages to Celebrate OT Month!
Week 1:  Fine Motor Strengthening Activities
April 1. Do wheelbarrow walks, bear crawls, or play in quadruped (on hands and knees)
April 2. Bath time fun with a spray bottle, water squeeze toys, or squeeze bottles with water
April 3. Pinch, pull, smoosh and smash Play-Doh, Silly Putty, or Modeling Clay
April 4. Build with Legos, Mega Blocks, K'Nex, or Pop Beads
April 5. Play Lite Brite, create a design with golf tees pushed into a foam block, or play with a peg board
April 6. Use clothes pins to pick up cotton balls to glue to a craft (or) tongs to clean up toys after play time
April 7. Complete punch art using hole punch, craft punches with fun shapes (or) stamp art with kids self-inking stampers
Week 2:  Sensory – Messy Play
April 8. Sensory bin play – Hide toys in a bin of dried pinto beans, dried rice, or cooked spaghetti
April 9. Shaving cream art – Create drawings on a cookie sheet, counter top, or window using your hands and shaving cream
April 10. Use your hands to scoop dirt and plant flowers (or) explore dirt and grass with hands and feet
April 11. Use your hands to make homemade cookies
April 12. Finger paint with your hands and feet
April 13. Make mud pies with dirt (or) explore different food textures and make food art
April 14. Make homemade slime and mix it with your hands (or) explore and play with Jello
Liquid Starch Slime Recipe Below
Supplies
Washable PVA Glue
Liquid Starch
Water
Measuring Cups
Bowl
Spoon
Food Coloring
Steps
Mix 1/2 C of glue and 1/2 C of water in bowl.
Add food coloring if desired.
Mix in 1/2 C of liquid starch.
Stir thoroughly.
Knead with hands.
https://littlebinsforlittlehands.com/liquid-starch-slime-easy-sensory-play-recipe/
Week 3:  Visual Motor and Fine Motor Activities
April 15. String beads, straw pieces (cut colorful straws into small pieces), cereal, or pool noodles pieces (cut pool noodle into small rings)
April 16. Complete age appropriate puzzle, shape sorter, or ring stacker
April 17. Draw a picture of your family, Color inside the lines, play a game of "I Do, You Do!" and have the child imitate your simple step-by-step drawing, or scribble with little ones
April 18. Cut paper with scissors on the line, snip paper with scissors, use scissor tongs with toys or tear paper with hands
April 19. Paint by number, dot-to-dot pages, mazes, or play with cars/trains on a road rug/train track
April 20. Make paper airplanes, make a paper fortune teller, fold paper in half and make a card for a friend, or play pop up pals with little ones
April 21. Play hand clapping games such as Miss Mary Mack, Miss Suzie or Patty Cake
Week 4 and 5:  Self Care
April 22. Buttoning skills – (use larger buttons to make the tasks easier and small buttons for an additional challenge) Activities – Dress stuffed animals in button down shirts, hide toys inside button shirts while playing table top, play with stickers, or put coins or buttons into a piggybank (Fisher Price Laugh and Learn Piggy Bank is great for little ones)
April 23. Scooping with a spoon – Scoop pinto beans with a spoon from a bowl into a jar or ice cube tray, wash small toys and use a spoon to put shaving cream or soap bubbles onto toys, or play with spoons, scoops, and cups in a sensory bin.
April 24. Poking with a fork –Pick up Play-Doh pieces with a fork after play, feed a mom or dad's puppet hand Play-Doh pieces using a fork
April 25. Pouring – Have a water relay and pour water into cups using various sizes of cups and water pitchers, and then walk the cup to the end of the relay line without spilling; or water plants using a watering can
Week 4 and 5:  Gross Motor Skills
April 26. Play catch using balls, stuffed animals, or balloons, and catch with your hands or a bucket
April 27. Jump rope, jumping jacks, hop scotch, frog jumps, or jump on a trampoline
April 28. Play soccer or kick a ball to each other or to a target
April 29. Play basketball or play bean bag toss and toss bean bags, stuffed animals or balls into a laundry basket
April 30. Go to the park and run, skip, climb, slide, swing, and hanging on the monkey bars
Ideas by:
Melissa McCormick COTA/L
Certified Occupational Therapy Assistant