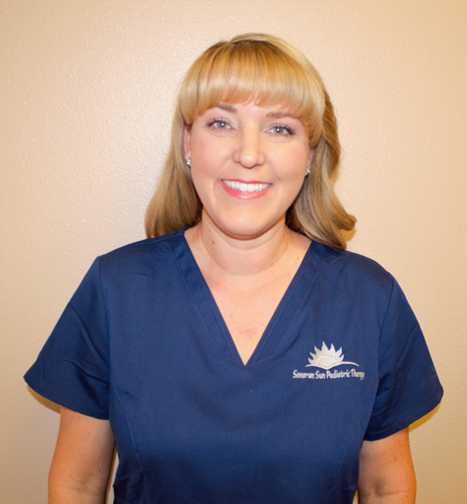 It's Occupational Therapy Month and we want to Spot Light one of our amazing Occupational Therapist!!
Melissa McCormick is our Certified Occupational Therapy Assistant, a wife, and mother of two wonderful boys. She graduated at Summa Cum Laude from Brown Mackie College Occupational Therapy Assistant Program. Melissa grew up taking care of her younger sisters and helping out with the children in her mother's in-home daycare. She developed a passion for working with children at a very young age and has been working with children ever since. When Melissa found out about Occupational Therapy, she immediately knew her purpose in life. She feels very blessed to have a career that focuses on helping amazing children develop skills and self-esteem through meaningful and fun activities. When she is not at work she enjoys spending time outdoors with her family camping in the forest or playing at the beach.
We are so lucky to have her as part of our wonderful staff here at Sonoran Sun Pediatric Therapy!!